The title Liberating Structures might give you the impression this workshop is a soft socialist gathering to release and involve every one and fly away. The contrary is true. In this post I will explain why and share some thoughts on how to use it. 
Liberating Structures
Liberating Structures is a menu of 33+ alternate ways of organizing that make it possible to include & engage more people. A single structure can be used individualy. But the real strenght is to combine structures in a string for example a workshop or strategic planning session. This can be used in small groups up to groups of 500.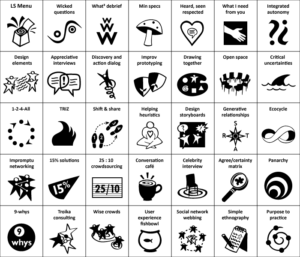 Immersion Workshop
The training was attended by 85 people. Most of them attendies had a scrum background. Although the group was big the setup of the training using Liberating Structures gave a very intimate learning experience. I have never connected to so many new people in 2 days. The training used Liberating Structures to practice and reflect on the structures. The second day was focused on using multiple structures and the practical implications. The workshop was intense, joyful and impactful.Learnings
Barry Overeem and Christiaan Verwijs already triggered me in their blogpost to use the Liberating Structures. I used the "1-2-4-all" structure and the "15 % solution" in sprint retrospective, to review a demo or game with up to 50 people. In the workshop I learned other Liberating Structures can be used in other scrum ceremonies like refinement, product road mapping or starting a team.
As a Agile Release Train Engineer it will be very valuable to use the Liberating Structures in an Inspect & Adapt workshop to find the "9 Why's", "15 % improvements" or the "25:10 crowd sourcing" to get the best bald improvements. In the PI planning event Liberating Structures techniques like "impromptu networking" can be used to energize and involve everyone. During the dependency management and risk roaming the Liberating Structure "What I need from you" and "TRiZ" can be used.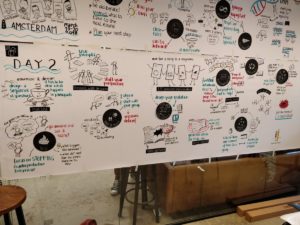 The most I am looking forward to use the Liberating Structures in workshops and training.
Added value
This training had at least the same impact as the Certified Scrum Master training I attended in January 2007. I love how the training was setup, the simplicity, the background and the ease of use in practice. I am eager to use it in my assignments. I like to thank the organizers for the training and will definately attend the meetup group liberatingstructures.
Sources:
The official website of Liberating Structures has a wealth of helpful tips for the various Liberating Structures.
For those looking to apply Liberating Structures within Scrum, Barry Overeem and Christiaan Verwijs have published a series of posts that explore potential applications.