Energy and transport organizations are committed to delivering responsibly and safely, preventing harm to our employees, contractors, local communities and the environment. Most organizations are also transitioning to Agile teams or are taking a more team based approach. In this post I will show how to combine this and reduce the number of safety incidents 
Background
Since 2014 I am using team assessments to find areas of improvement. Specifically I am using scientifically validated surveys to measure team development. The research by  Richard Hackman and his research team (Ruth Wageman) is well known.  I have read most of his book and discovered the Team Diagnostic Survey. This validated survey can be used to check 6 enabling conditions for team effectiveness:
On these "team enabling conditions" I have written earlier:
1.    Is a team a real team?
2.    Does a team have a compeling team purpose?
3.    Are the right People On Board?
6 Team Conditions
Digging through the research from Richard Hackman I learned he died in January 2013.  His college Ruth Wageman and  Krister Lowe started 6 Team Conditions. They offer Team Diagnostic Survey online. Next they offer trainings and certifications for  using the Team Diagnostic Survey. The website and podcast are very interesting.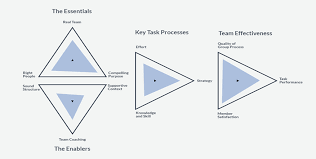 Results
In 2018 I used the team diagnostic survey gebruikt in an agile transition. 13 cyberdefense teams were trained and coached in using Scrum, Kanban and Lean.  At the start of the transitions I used the team diagnostic survey and other assessments for a baseline assessment.  At the end I repeated the assessment. The results were:
team maturity increased from 20 to 50%.
team enabling conditions improved  20%
de team predictability (ls the team delivering what they planned ) increased in 3 quarters from 16% to 59% and 75%. 
Teams and Safety
In a recent podcast on 6 Team Conditions Ruth Wageman and Krister Lowe interviewed Tijana McKenzie and Sathi Banerjee from Royal Dutch Shell. Shell uses the team diagnostic survey, employee engagement and safety incident research. Their data analytics team found some interesting findings:
Increase of 1% employee engagement resulted in an decrease of safey incidents with 4 %
An improvement off 1 % on team enabling conditions (real team, right people, supportive context) resulted in an increase of employee engagement with 9 %.
An intervention on team enabling conditions can help reduce the number of safety incidents.
Conclusion
Measuring team development and team effectivity with team assessments has business value. Both examples show business  results like increased team predictability, employee engagement and reduced safety. 
Contact
Feel free to contact if you want more info on this post.
Sources
Collaborative Intelligence – Using Teams to Solve Hard Problems, J. Richard Hackman
6 Team Conditions: website
Podcast EPISODE #013: Link